Niraan Tent City – Varanasi
02 Nights / 03 Days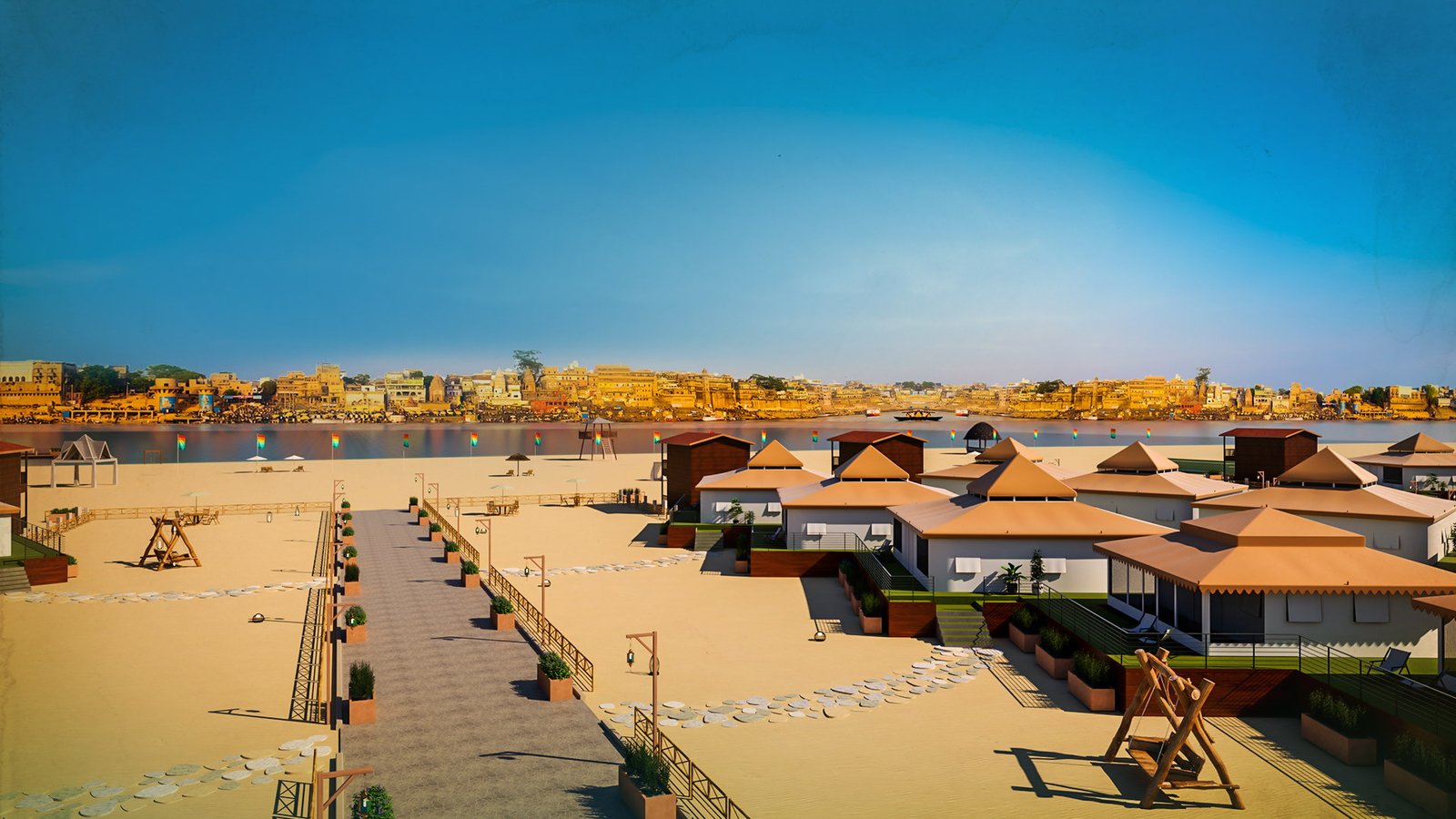 Day 1                   
Check-in time: 12:30 PM
Transfer by Boat on sharing basis from Namo Ghaat to Niraan – The Tent City, Varanasi on fixed pick-up timings.
8.30 AM
10.00 AM
11.30 AM
01.00 PM
03.00 PM
Terms and Conditions
The above timings are for fixed departures and are subject to change
No complimentary transfers will be available after the above timings.
Individual transfers are available on request (chargeable).
Allotment of tents to guests arriving before check-in time will be subject to availability
12:30 PM Welcome and Check-in
12:30 PM to 02:30 PM Lunch at the Dining area

03:30 PM to 05:30 PM VIP Darshan at Kashi Vishwanath Temple Right from the guided tours and darshans, Niraan – The Tent City, Varanasi also offers you an exclusive Darshan package to the mystic Kashi Vishwanath Mandir. Situated by the banks of the Ganges the temple is one of the twelve Jyotirlingas, the holiest of Shiva temples. Located around 4 km away from the Varanasi Junction Railway Station near the Manikarnika Ghaate this towering Structure has 800 kgs of pure gold plated on it.
06:30 PM to 07:30 PM Evening Ganga Aarti by boat Doubtlessly, the world-famous Varanasi Ganga Aarti on the banks of the holy river Ganga has attracted people for many decades. Performed at the Dasaswamedh Ghaat, close to the Kashi Vishwanath temple, it is one of the most spectacular sights of the city and is visible straight from the property.

07:30 PM to 10:30 PM Dinner at the Dining area with Live Music


Day 02
05:00 AM to 06:30 AM Experience Ganga Aarti at Assi Ghaat with Subah-e-Banaras Experience a morning full of life, light and the spiritual essence of Varanasi along with Vedic chanting, music and yoga and the ever-mesmerising Ganga Aarti at the Assi Ghaat.
06:30 AM to 08:00 AM Ghaat Darshan Boat Tour Niraan – The Tent City, Varanasi offers you an exclusive boat ride that takes you through a mystic blend of nature's grandeur and human existence, the rising sun, the holy Ganges and a view of the blissful Ghaats
08:00 AM to 10:00 AM Breakfast at Dining Area
10:00 AM to 12:30 AM Enjoy the in-house activities
12:30 AM to 02:30 PM Lunch at the Dining Area
03:00 PM to 07:30 PM Any one of the following tours: City Tour / Sarnath Darshan / Heritage Walk

Explore the rich cultural history of Varanasi in a completely different way with Niraan – The Tent City, Varanasi. With guided tours that take you through all the significant tourist attractions, you get to immerse yourself in the sacred atmosphere of the city.City Tour
Bharat Mata Temple A unique temple dedicated to Mother India, this temple houses a relief map of India, carved out of marble, instead of the customary gods and goddesses. 
Tulsi Manas Temple The Tulsi Manas Temple was built in 1964 by a philanthropist family of Varanasi and is devoted to Lord Rama. With an exquisite structure of white marble, it has the verses and scenes of the holy book Ramcharitmanas engraved on its walls. 
Banaras Hindu University Incepted in 1916, the Banaras Hindu University nestles over 25,000 students, making it one of Asia's largest residential universities.
Monkey TempleThis temple quite opposite to its name, is dedicated to the goddess Durga and stands today in the typical Nagara style of architecture in red sandstone. It has a sacred pool in it which is believed to be connected to the holy river Ganga.
Sarnath Darshan
Sarnath MonasteryAlso known as the Tibetan Temple, it is one of the highly revered pilgrimage sites in Sarnath. And is located close to the main market. It has a stupa which was built to pay homage to Tibetan Independence Movement warriors.
Sarnath MuseumThis famous archaeological museum houses various ancient objects ranging from Buddhist arts, images of Hindu Gods and other historical things related to the culture of Buddhists.
Mulgandha Kuti ViharBuilt by the Sri Lankan Mahabodhi Society in 1931, it is the place where Lord Buddha spent his first rainy season. The walls of this temple have beautiful frescoes depicting the life of the Buddha.
Pink Temple (Buddha)Called the gulabi or pink temple because of the colour, this temple houses a beautiful sitting statue of buddha this temple is located on the main circuit of Sarnath.
Korean Temple (Nokyawon)Located just a few meters away from the pink temple, the Nokyawon has many ancient scriptures and also a pillar that is said to denote Indo-Korean friendship.
Japanese Temple (Horinji Temple)One of the many new temples in Sarnath, the Horinji temple has aesthetically pleasing interiors that represent peacefulness. Situated inside is also a beautiful statue of Lord Buddha in a reclining pose. 
Dhamek StupaDhamekh Stupa is the place where Lord Buddha had given his first conversation about Dharma. It is also called as the Dharma Chakra Stupa since it contains 8 niche images of Lord Buddha preaching about Dharma.
Heritage Walk
A source of cultural and anthropological intrigue since ancient times, the city of Varanasi has the holy river Ganga that provides a bewildering landscape of Ghaats, temples and a way for many Hindu rituals.
The essence of Varanasi is captured in the streets of the city which have narrow and puzzled alleys, beautiful temples and shrines, old Buddhist monasteries, age-old buildings, various cultural and religious diversities, all the major markets, and authentic native food of the place.
Niraan – The Tent City, Varanasi help you gain an experience of all of these traditions while taking you through a guided Heritage Walk that captures this charm.

07:30 PM to 10:30 PM Dinner at the Dining Area with Live Music
Day 03
06:00 AM to 07:00 AM Yoga on the bank of river Ganga
08:00 AM to 10:00 AM Breakfast
10:00 AM Check-out with Happy and Pleasant Memories
Tour Cost 
Rates(INR) 
Rate per night for 02 Person
On Twin Sharing Basis
Deluxe Tent
17,300 * 02 Nights – 34,600
Premium Tent
23,000 * 02 Nights – 46,000
Royal Villa
33,400 * 02 Nights – 66,800
Inclusions
Accommodation on Dbl Sharing
Meals -All meals
Transfer by Boat on sharing basis from Namo Ghaat to Niraan – The Tent City, Varanasi on fixed pick-up timings..
Sightseeing's & Entertainment activities as per the itinerary
GST
Excludes
 Air , Trains & bus tickets
Any sightseeing other than specified above
 Travel Insurance
Any items of personal nature like tips, laundry, etc.
Early check-in charges
Entrance fees for any sightseeing and Guide charges
Note : 
Rates on single occupancy basis will be 75% of the basic cost (75% of double occupancy amount).
In case of triple occupancy, any person above 6 yrs. of age will be charged as extra person (with mattress).
Rooms and rates are subject to availability, it may change any time .
Organizer reserves all right to make any change without prior notice.